About us
We are a specialist manufacturer and exporter of innovative Heating and Cooling products based in Ningbo, China. Our heating&cooling ranges including PTC Heater,Portable Air Cooler,Ceramic Tower Heater,Outdoor infrared Radiant Heater,industrial Fan and Circulating fan, with over 15years producing and exporting experiences.
Categories
author: Huipu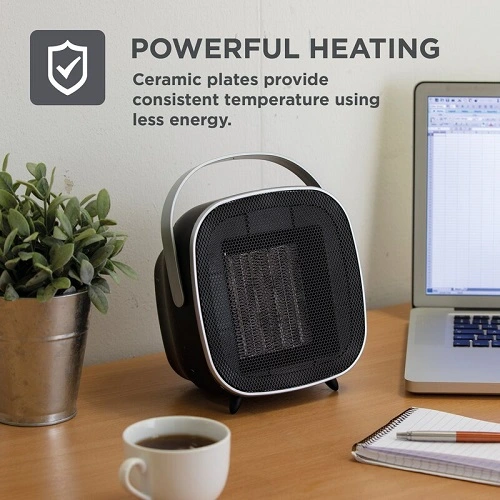 Consumers complains from other Ceramic Fan Heaters selling on-line:

1. The most complain is the noisy, please check below reviews:




2. The second most concern is the electricity bill cost:




3. Other complains include: incorrect room temperature display, LED display not easy to read far away, thermostat not work properly, no remote and timer function so on:



 


In order to solve the painful which the consumers are complaining, we developing this new Digital Quiet Ceramic Tower Heater base on the survey.

The Heater need to meet below points:
1.Quietly Heating (perfect for bedroom,kitchen, lounge, home office)

2.Energy Efficient (better with ECO mode, specially the electricity cost and gas price rising rapidly)

3.With Remote and Timer ( remote and timer for easy operation in distance)

4.Accurate room temperature display

5.Proper thermostat work.
besides above improvement, our new quiet ceramic heater have it's unique advantage design:
1.With Mood Lights: Blue/Purple/Red ( warm red lights help you sleep and good as a night light)

2.Portable leather handle, easy to take from room to room

3.White LED display lights, easy to read even when you are distance away from it

4.Built-in tip-over switch, it's not like a simple tip-over switch which switch off too easily on rug ( for digital heater, it need to re-start again if it is switched off), it only switch off when the heater falls down.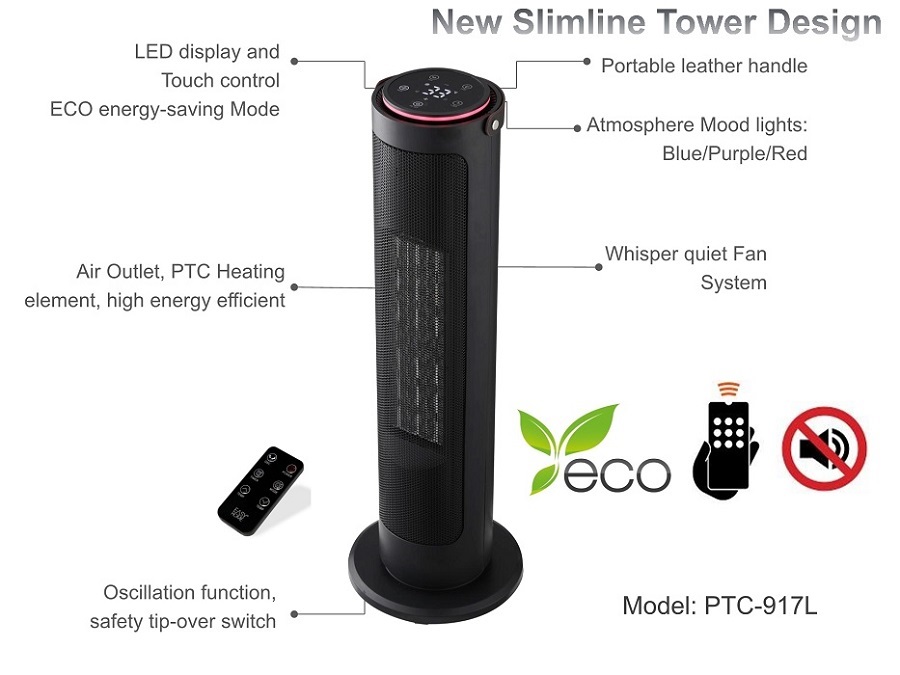 Description:
2 Heating power: 1200/2000W

Electronic temperature selective: 15-35C

Coo wind available

Oscillating

Remote control

PTC Heating element, instant heating

Over-heat protection

Tip-over switch

Children lock for extra safety
Features:
LED display and Atmosphere Mood Lights (Blue/Purple/Red)

ECO Mode, energy-saving

0-9 hours timer

Portable leather handle

Whisper quiet heating

Slimline tower design, compact to save space.
Touch Control Panel and LED room temperature display: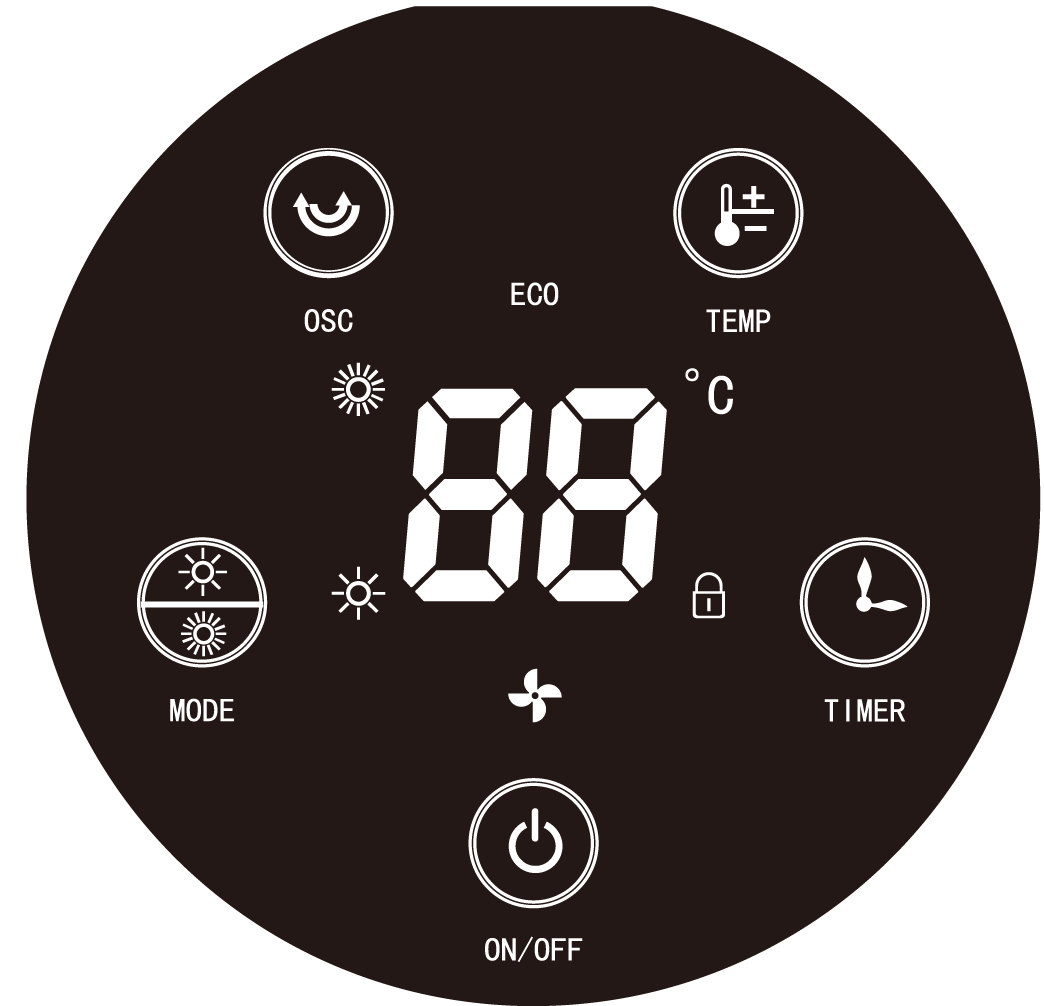 Power settings:
Fan: Cool wind ( Blue Atmosphere Mood Light)

Low Heat: 1200W Heating( Purple Atmosphere Mood Light)

High Heat: 2000W Heating( Red Atmosphere Mood Light)

ECO Mode: Energy-saving mode, automatically heating to save electricity cost.
Product dimension: 180x180x540mm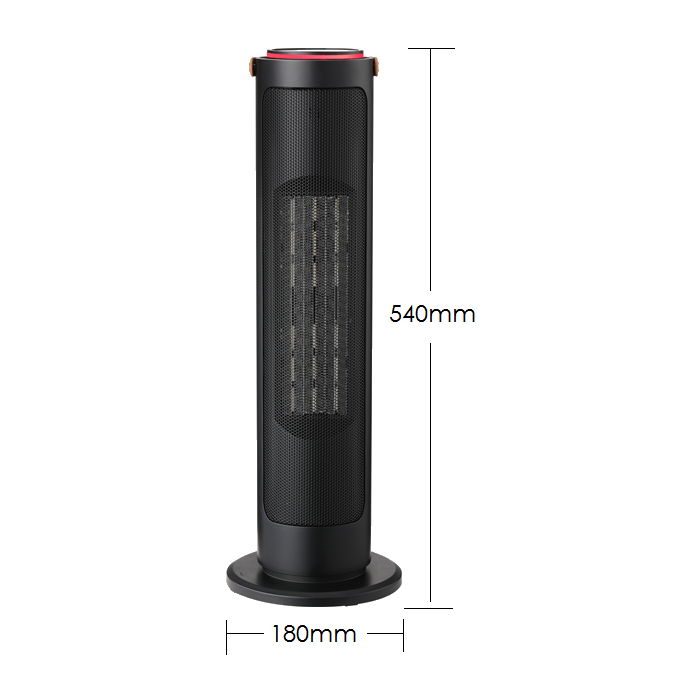 Atmosphere Mood Lights ( Blue/Purple/Red), can be turn-off separately.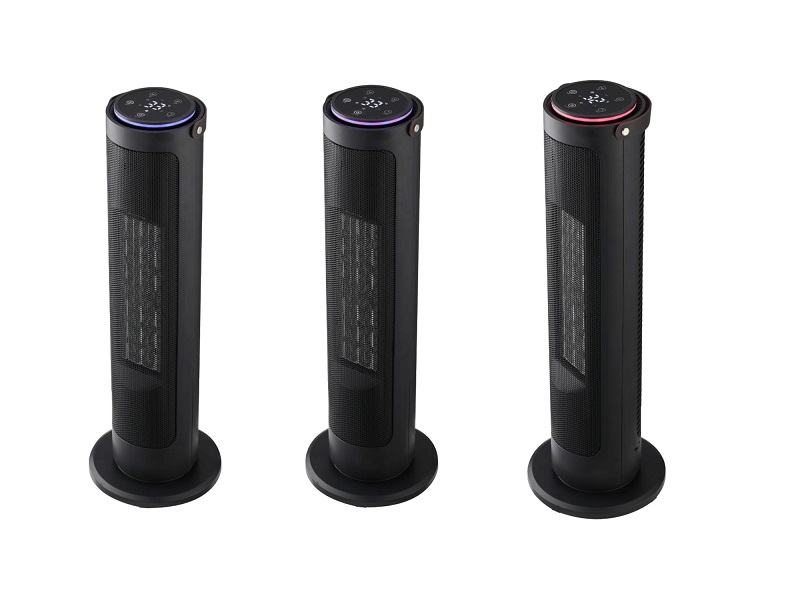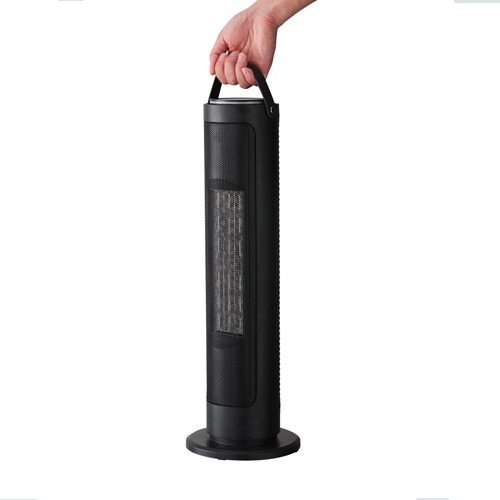 Portable leather handle, elegant and comfortable, easy to carry around, can be used as plug holder,too.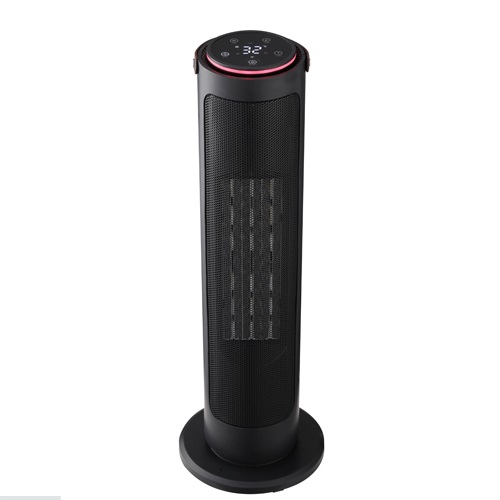 Touch control panel, LED room temperature display, can be read easily in distance away.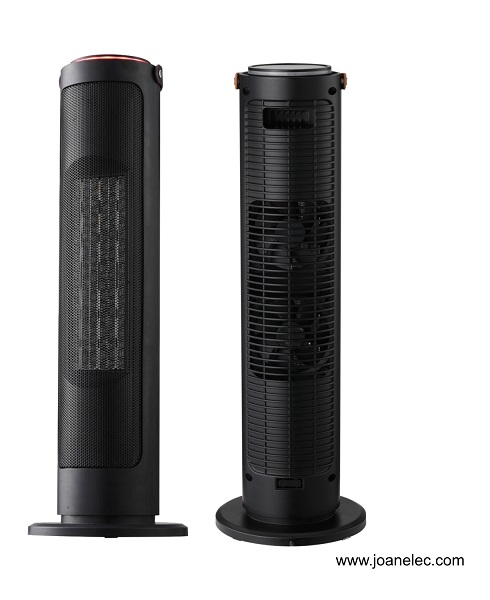 Dual-Fan system, instantly heating up and extremely low noise, up to 9 hours timer, ideal for using in bedroom, study room,home office,lounge,kitchen, living room, conservatory ect. And there is a remote controller storage at rear cover.