About us
We are a specialist manufacturer and exporter of innovative Heating and Cooling products based in Ningbo, China. Our heating&cooling ranges including PTC Heater,Portable Air Cooler,Ceramic Tower Heater,Outdoor infrared Radiant Heater,industrial Fan and Circulating fan, with over 15years producing and exporting experiences.
Categories
author: Huipu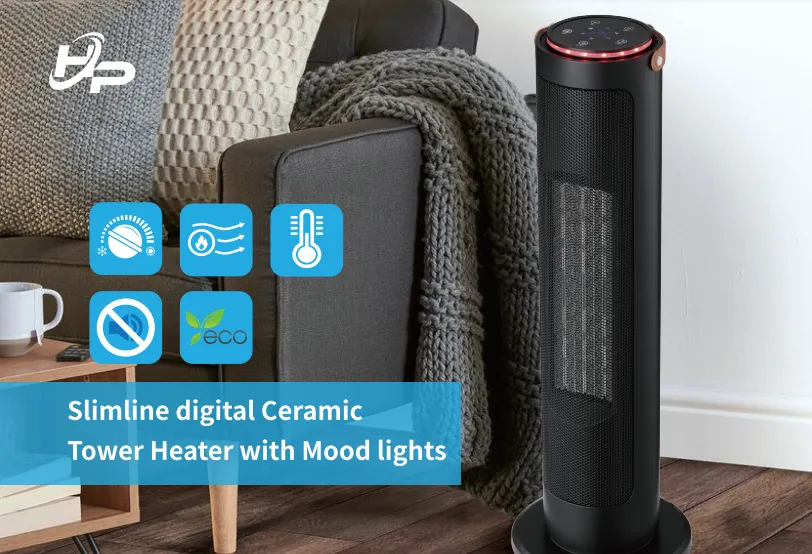 1. Energy efficient
Due to the rapidly rising of the electricity cost, more and more people concerns the electricity bills which they will get in heating season, so a more energy-efficient and energy-saving room heaters is a good choice to the end users.
2. Smart heater
With the developing of technology, people loves the heater which is smarter than tradition one, you can control the heater by phone via APP when you far away, or speak to the heater via
"Alexa", release your hands to control it more conveniently.
3. Good mate
Heater is not only a heater, it makes up your home, and acting as a
"room mate" to you, you can feel it is just like a friend, but not a simple machine.
Base on this, our company developed a digital ceramic tower heater, which can meet the above requirement, it has a ECO model which can control the heating procedure automatically, and the energy cost is about 30% less than normal heating.
Combine with wifi function, you can let this smart ceramic fan heater pre-heat before you arrive home, or turn-it off when you forget to turn it down before leaving your house. On the other hands, you can speak it to turn on/off and adjust the room temperature via "Alexa".

This digital ceramic tower heater integrated with a atmosphere lights at top panel, it will indicates the working status obviously,what's more, it can act as a night lights for sleeping, the quietly heating system makes you sleep well and not disturbed.

You may find more information by contact us and we are willing to bring the latest advanced electric heaters to you for long-term business.